Calderdale Council sets up toad patrols at five sites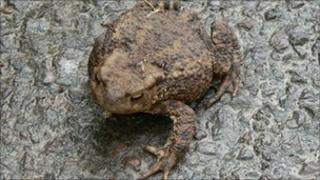 Volunteers are needed to help save the lives of toads crossing the road at five sites in Calderdale.
They will carry the toads safely across the roads.
The toads are trying to get back to their regular breeding ponds following the recent run of milder spring weather.
The common toad population has declined due, in part, to the animals being run over as they make their way back to breeding ponds.
Two important toad crossings at Lumbutts, near Todmorden, and at Hebble End, Hebden Bridge, are about to have seasonal toad warning signs put in position.
The signs warn road users to drive carefully.
Three other toad crossing areas will be monitored over the coming weeks.
They are on Woodhouse Road in Todmorden, Hebden Hey near Hardcastle Crags and Washer Lane in Sowerby Bridge.
Warm and wet
Volunteers will search for toads, place them in buckets and negotiate the road before releasing the amphibians out of harm's way.
Recently 50 toads were helped during just one evening at one site and it is not unknown to find 100 toads at one crossing place, especially when the weather is warm and wet.
Conservation Officer Hugh Firman said: "Like any wildlife you just can't tell how many will turn up."
Local volunteers are part of a national campaign, Toads on Roads, coordinated by the wildlife charity Froglife and supported by volunteer groups involved in amphibian and reptile conservation.
New volunteers keen to help with any of these crossings should get in touch with Calderdale Countryside Services by email to Hugh.firman@calderdale.gov.uk or telephone 01422 393214.