Sheffield families meet over Leeds heart unit plans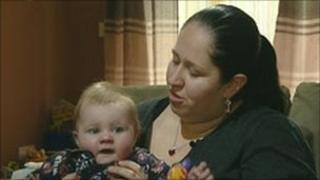 A second public meeting is to be held for families in Sheffield to discuss plans to close Yorkshire's only children's heart surgery unit.
The unit, at Leeds General Infirmary, is under threat as the NHS reviews the 11 centres currently carrying out the work.
About 70 people turned up to the first Save Our Surgery campaign meeting in Leeds last week.
The second meeting will take place at Baldwins Omega, Brincliffe Hill, later.
Fears have been raised that the loss of the Leeds unit, which provides treatment across Yorkshire and the Humber, will force patients to travel long distances and could cost lives.
'It's devastating'
The nearest units would be in Newcastle, Liverpool, Leicester or Birmingham.
NHS officials have proposed four options - all of which involve stopping operations at either four or five hospitals.
Three of the four options involve closing the Leeds unit.
An online petition against the closure of the Leeds unit has now been signed by more than 21,000 people.
Cassie Symms, of Rotherham, is due to attend the latest meeting.
Her seven-month-old son, Zander, was born with a hole in the heart and will need surgery and check-ups.
She said: "I think it's devastating, the amount of travel I would have to do.
"If he got critically ill how quick we would have to get somewhere and how quick he would be seen?
"It would be a lot of stress on myself."
A final decision is expected later in the year.