Pedestrian and driver killed in West Yorkshire winds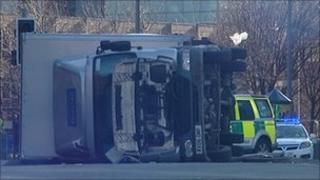 Strong winds have claimed the lives of two men and left one woman injured in West Yorkshire.
A 35-year-old man was walking along a pavement on Neville Street in Leeds city centre when a lorry overturned at about 1400 GMT.
He was taken to hospital where he died. A female pedestrian, aged 22, was also hurt and is being treated in hospital.
Elsewhere, police said a lorry driver was killed when his vehicle blew over on the A1 near Pontefract.
West Yorkshire Police said the man killed in the Neville Street incident was from the Calderdale area. The injured woman is from Leeds.
Neville Street has been closed between Sovereign Street and Great Wilson Street. Motorists are being urged to avoid the area.
The spokesman added: "The road will remain closed throughout the rush hour and beyond."