Blast soldier's bravery honoured in Sheffield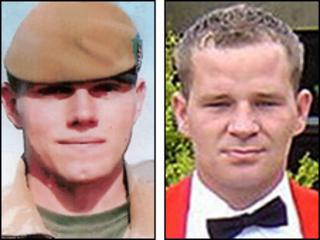 A soldier who died trying to help a comrade in Afghanistan has been given a posthumous bravery award.
Corporal Liam Riley, 21, of Killamarsh, Derbyshire, died trying to reach Lance Corporal Graham Shaw, 27, in Helmand Province.
They were on patrol with 3rd Battalion, The Yorkshire Regiment, when they stood on improvised explosive devices.
Mr Riley's family received his Mentioned in Despatches honour at Sheffield Town Hall.
Cpl Riley's father, Mick, said he was proud of his son and happy his actions had been recognised.
He said: "It's been a year now and we didn't really want this day to come.
"It's nice that he's been honoured by the people of Britain.
"He was - and still is - a smashing lad in my heart."
An inquest heard Cpl Riley and L/Cpl Shaw, of Huddersfield, were killed by two home-made bombs in the Babaji District.
His mother, Cheryl Routledge, said she thought his efforts deserved to be recognised.
She said: "I didn't know how upset I would be this week, but I'm really glad and proud that we've had [the ceremony] today."
Captain Nick Wilson said Cpl Riley had acted on a split second decision.
He said: "Liam is typical of a lot of our soldiers, he had an instant decision to make and in less than a second he made a decision that ultimately cost him his life.
"But it was a very courageous thing to do.
"He went to help his friend out, he's a massively brave man and we owe him a debt of gratitude."
Ms Routledge said the family also had L/Cpl Graham Shaw and his family in their thoughts at the ceremony.
After Cpl Riley's death, Prince Harry paid tribute to his friend, with whom he served at a military training unit in Canada in 2007. The prince described him as a "legend".