Leeds ballet centre opens doors for visitors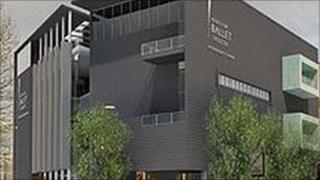 The doors of a multi-million pound ballet and dance centre in Leeds have been opened to the public.
Building work at the home of the Northern Ballet and the Phoenix Dance Theatre, close to West Yorkshire Playhouse, was completed in 2010.
The £12m structure, at Quarry Hill, has been described as the largest purpose-built space for dance outside London.
On Saturday visitors were shown the seven dance studios, given previews of shows and offered taster sessions.
Mark Skipper, Northern Ballet's chief executive, said: "It is with pride that we open the doors to our fantastic new building - a powerhouse for dance and a landmark in the city of Leeds.
"The open day is an opportunity for us to celebrate our new home with our local community and for the public to find out how they can use the building themselves."
Ideal opportunity
Sharon Watson, of the Phoenix Dance Theatre, which shares the building with the Northern Ballet, said: "As well as being the perfect place for our two companies to grow this new building is an incredible facility for the people of Leeds.
"This day offers the ideal opportunity for people to see behind the scenes and dance themselves in our brand new studios.
"After 30 years in Leeds without a home of our own, we really can't wait to welcome people through the doors."
Prince Edward officially opened the site on Tuesday where he viewed a performance and unveiled a plaque.
During the tour, he saw dance examples from students demonstrating how pupils develop from novice to professional standard.
The six-storey building includes seven dance studios, a 230-seater studio theatre along with wardrobe facilities, meeting rooms, a hot tub, sauna and physiotherapist facilities.