Councillor survives Leeds bins row vote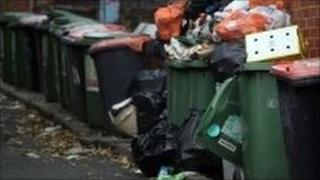 A vote of no confidence in a senior Leeds councillor over problems with the city's dustbin collections has been defeated.
Labour councillor Tom Murray, who is responsible for environmental services, had faced the motion from Conservative councillor Barry Anderson.
But at a meeting on Wednesday evening 54 councillors voted against the motion and 39 supported it.
The city council is Labour-controlled with support from the Green Party.
The motion came after many households missed out on bin collections before Christmas because of a shake-up to services.
Refuse and recycling collection routes across the city were overhauled in October to make them more efficient and save the council £2.4m annually.
Productivity targets
It was hoped the new zone-style working method would mean if one crew was held up other crews in the area could help them once they had completed their streets.
However, the reorganisation led to confusion over collection times in parts of Leeds.
Residents living in the Headingley and Hyde Park areas of the city said rubbish had piled up on their streets as they did not know which day the bins would be emptied.
The efficiency measures were part of a deal that ended last year's 11-week strike by refuse workers in the city after hundreds walked out in September over claims by the unions that a new pay system would have led to a wage cut of up to £5,000.
They returned to work in November after accepting a new offer from the council which was dependent on productivity targets being met.