Prince Edward to open Northern Ballet centre in Leeds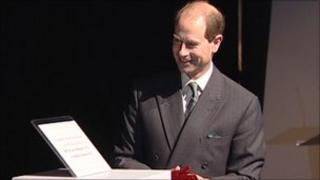 A multi-million pound ballet and dance centre in Leeds has been officially opened by its patron, Prince Edward.
Building work at the home of the Northern Ballet and the Phoenix Dance Theatre, close to West Yorkshire Playhouse, was completed in 2010.
The £12m structure, at Quarry Hill, has been described as the largest purpose-built space for dance outside London.
Prince Edward toured the site on Tuesday where he viewed a performance and unveiled a plaque.
During the tour, he saw dance examples from students demonstrating how pupils develop from novice to professional standard.
The six-storey building includes seven dance studios, a 230-seater studio theatre along with wardrobe facilities, meeting rooms, a hot tub, sauna and physiotherapist facilities.
Performing arts
The centre has been paid for with £10.7m from Leeds City Council, the regional development agency Yorkshire Forward and the lottery-funded Arts Council.
The Northern Ballet and Phoenix Dance Theatre had to find the remaining £1.5m needed for the project.
Leeds Metropolitan University and the city's Grand Theatre were among the contributors.
The university's performing arts degree courses will take place in the building.
Northern Ballet's artistic director, David Nixon, OBE, said: "Our new home is a testament to the strength of support and confidence in the future of dance at the forefront of the cultural life of Leeds.
"It will nourish future talent by allowing young aspiring dancers from across the north to access outstanding training in excellent facilities without having to leave home."