Man cleared of Leeds football fan manslaughter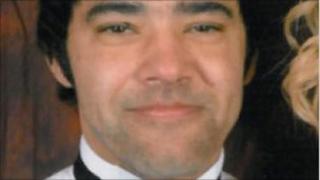 A man has been cleared of the manslaughter of a football fan who died after he was punched following England's first 2010 World Cup match.
Robert Wilson, 44, fell to the ground after he was hit by Christopher Perry outside a Leeds bar on 12 June.
Mr Wilson fractured his skull when he hit the floor and died in hospital 11 days later.
Mr Perry said he was only acting in self defence and was acquitted by a jury at Leeds Crown Court.
The incident happened outside the Skyrack bar following England's 1-1 draw with the United States.
The court heard about a brief scuffle involving Mr Perry's group of friends which developed in the pub's beer garden as they left.
CCTV footage shown in court showed the group then cross the road outside.
Witnesses said Mr Wilson followed them out and started shouting at Mr Perry.
The court heard he shouted things like: "Let's finish this" and "bring it on".
Mr Perry walked back across the road but, giving evidence, he told the jury he only struck Mr Wilson because he thought he was going to get hit himself.
He said he acted instinctively to pre-empt what he thought was going to be a punch from Mr Wilson.
He told the court he was devastated by what had happened.
Mr Perry, from Shadwell Walk, Leeds, had denied one charge of manslaughter.