Leeds City Council accused of neglecting old buildings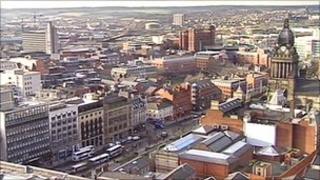 Leeds City Council has been accused by one of its councillors of neglecting old buildings in its possession.
Labour's John Illingworth said around 30 council-owned buildings had been allowed to fall into disrepair.
Mr Illingworth said the Labour-controlled council should have sold the buildings to provide much-needed funds.
But a Leeds City Council spokeswoman said the sale of surplus property had raised £400m in the past 20 years, all of which was re-invested.
Councillor Illingworth said there was roughly one council-owned building in each ward which was suffering from neglect.
"It makes me weep. I have watched good buildings go to wrack and ruin," he said.
He said examples of neglected buildings included Elmete Hall near Roundhay Park and Abbey Mills in Kirkstall.
Sold off
Mr Illingworth said the council had missed out on "an awful lot of money" by failing to sell unwanted properties before they fell into disrepair.
"They often have to be sold off for a fraction of their original value, with permission to demolish them," he said.
But a Leeds City Council spokeswoman said: "We are very proactive in marketing such properties.
"We sell them through a variety of means - for example by private treaty and auctions, development competitions and various partnerships.
"There are some buildings which are notoriously difficult to sell which invariably do stay on our 'void' list for some time."
The council blamed the downturn in the economy for the time it was taking to sell some buildings in its possession.