Leeds City Council says most of bin backlog cleared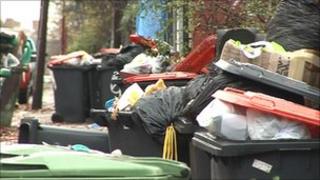 The vast majority of a backlog of waste which built up in Leeds over Christmas has been cleared, the council has said.
A one-off Sunday bin collection took place on 9 January and extra staff were drafted in from the council's parks section to empty bins in the city.
Some households had not had their bins emptied since before Christmas after problems following a shake-up of the service in October.
Snowy weather conditions during the festive period also led to delays.
The council said the Sunday collections had tackled most of the backlog.
A spokesman said back-up crews were continuing to help clear any further reports of missed bins.
Collection confusion
Councillor Tom Murray, the council's executive member for environmental services, said: "We're very pleased with the outcome from Sunday's special collections and we are focusing now on working to get the new routes embedded and operating well.
"We know that issues around the new systems won't be solved overnight but we have made a lot of headway and there's a real determination within the service and across the council to make this work."
Refuse and recycling collection routes across the city have been overhauled to make them more efficient, in a move the council said would save it £2.4m a year.
The efficiency measures were part of a deal that ended last year's 11-week strike by refuse workers in the city.
However, the reorganisation has led to confusion over collection times in parts of Leeds