Millions needed for repairs to Kirkgate Market in Leeds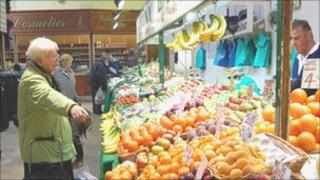 An inquiry into the future of Kirkgate Market in Leeds will hear it urgently needs £2m worth of repairs.
Documents show £1.8m is required for "imminent and essential" jobs on the council-run market, together with £600,000 of other work.
Most of the repairs are needed to mend buildings originally constructed as a temporary measure after a fire in 1975.
These figures have emerged at a time when Leeds City Council needs to save £150m over the next four years.
Sue Burgess, market manager, said repairs were necessary if Kirkgate Market was to continue to be a safe and pleasant shopping experience.
Temporary buildings
She blamed the state of the market's temporary buildings for the size of the repair bill.
"They were put up in 1975 and they are still there now.
"Clearly they need a lot of patching-up to make sure they comply with health and safety and they are pleasant to work in."
Extensive repairs to the roof of Kirkgate Market, which is the largest indoor market in Europe, are also said to be necessary.
The council's city centre development scrutiny board started an inquiry into the future of the market in December 2010.
Ms Burgess said the council was "very committed" to Kirkgate Market.
"It is something which is very dear to the people of Leeds.
"We are not going to see a situation where the council is simply going to let it dribble out."