Persistent rough sleepers arrested in Leeds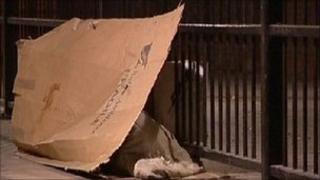 People found persistently sleeping rough on the city centre streets of Leeds are being prosecuted by police.
Officers from the city centre policing team and workers from the council's Street Outreach Team are visiting known haunts of street sleepers.
In late summer as many as 50 street sleepers were recorded in the city, but that figure has now dropped.
St George's Crypt, which looks after homeless people, said beds were available for homeless people.
West Yorkshire Police said anyone found sleeping rough was first cautioned under the Vagrancy Act and referred to the Street Outreach Team for help.
If that person was subsequently found sleeping rough again they would be arrested and prosecuted with the Street Outreach Team continuing to offer support to find accommodation.
Warnings issued
Ch Insp Vernon Francis, of the City and Holbeck Division, said: "Rough Sleepers are a serious issue in the city centre, not just because they cause anti-social behaviour, but also because they need help to turn their lives around."
Police said over the last three months 28 people had been given warnings for sleeping rough and of those, 13 were arrested after going back to the streets.
But a spokesman for St George's Crypt said a recent refurbishment of the facility meant they could now offer 21 beds a night to rough sleepers.
And he said the city council's "Severe Weather Protocol" which runs when temperatures drop meant there would always be somewhere for homeless people to sleep during the night.
Rob McCartney, Leeds City Council's housing strategy and commissioning manager, confirmed there were emergency bed spaces in the city during extreme weather.
Mr McCartney said there were 22 emergency beds provided, 15 of those had been allocated and seven were still available.