Leeds students urge city strike on tuition fees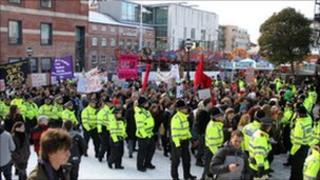 Students staging a sit-in in Leeds in protest at a rise in tuition fees are calling for a city-wide student strike this week.
One hundred students have been occupying a lecture theatre at the University of Leeds's Michael Sadler building since 24 November.
They will stay there until Wednesday, when they want students across the city to join them in a day of protest.
Spokesman Ian Pattinson said they hoped for a "complete educational shutdown".
Thousands of students have taken part in marches in the city to show their opposition to government plans to increase tuition fees.
The key vote on lifting the cap on tuition fees will be held on Thursday.
The Lib Dems have come under heavy pressure after pledging before the election to vote against any fee rise.
They have defended the proposals, which will see no upfront payments and graduates starting to repay the cost of their degrees when they earn £21,000.
They say low-earning students will contribute less than under the system the coalition inherited.
Mr Pattinson said: "The Con-Dem government has no mandate for these cuts.
"If we can stop the tuition fee rises, it will throw into question the necessity and inevitability of their entire austerity agenda."