Fifa decision ends Leeds World Cup venue hope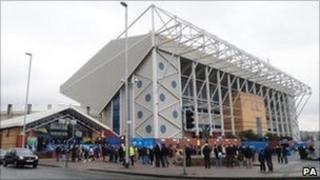 Leeds's hopes of hosting World Cup games have been dashed after England's failed bid to stage the 2018 event.
Fifa, world football's governing body, has chosen Russia over England, Netherlands-Belgium and Spain-Portugal.
Leeds was one of the 12 cities bidding to host World Cup matches if England's bid had been successful.
Earlier this year Leeds City Council said the chance to host World Cup matches would give a "multi-million pound boost to the local economy".
The Leeds bid had received support from previous World Cup host cities, Dortmund in Germany and Durban in South Africa.
Leeds also had the backing of Lille in France and Brasov in Romania after both countries' national teams played group matches in the city during Euro 96.
Reacting to the announcement, Councillor Adam Ogilvie, executive board member for leisure, said: "It's disappointing that Leeds has missed out on the chance to be part of the greatest sports tournament in the world.
"The bid the Leeds City Region had submitted was fantastic and the England 2018 bid was very strong."
'Hugely disappointing'
He added: "It would have been a fantastic opportunity for Leeds to stage World Cup matches.
"It would have ensured global coverage for the whole city region and provided a huge economic boost.
"We have the facilities, fans and support to be a host city and I truly believe it is the world's loss that Leeds and this part of Yorkshire will not be involved."
Simon Grayson, manager of Leeds United, said the news was "hugely disappointing".
"It is a big anti-climax for us in Leeds and the country in general.
"There's been a lot of hard work by our council and football club... I don't think we could have done much more."