Leeds students in second protest over tuition fees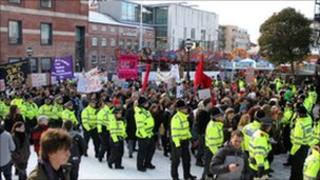 Students who oppose government plans to increase tuition fees have taken part in a second day of protest in Leeds.
University and college students were joined by some school children in a march through the city centre.
About 500 people attended, a spokesman for the students' organisation Leeds University Against Cuts (LUAC), said.
Police said though most of the students remained peaceful a "significant minority" had tried to cause trouble.
Ch Supt Mark Milsom, of West Yorkshire Police, said: "There was an impromptu occupation of the Arnold and Marjorie Ziff Building by about 40 students, with minor damage caused to a sensor and the fire alarm set off.
"Further damage was caused to a glass door after a security guard tried to close it to prevent students entering.
"Officers worked in conjunction with the university's security staff to arrange for students to leave the building, which they did without further incident."
Sit-in continues
Earlier, up to 60 students had walked out of Allerton Grange School in the north of the city in support of the protest.
Students on the march included some who have been occupying a lecture theatre at the university's Michael Sadler building since last week's protest against fees.
Police said they returned to the building to continue their occupation after taking part in the march.
The students' spokesman, Ian Pattison, said they would be meeting to decide whether the occupation would continue.
"The government can't expect to make massive cuts to education without a reaction," he said.
"The cuts are not inevitable, the fighting back is."