Leeds Armistice Day traffic silenced after campaign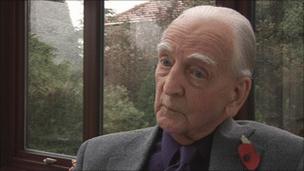 A war veteran has won his bid to stop traffic in a part of Leeds during the two-minute silence on Armistice Day.
After last year's city ceremony, Jack Swindells, 94, from Otley, contacted Leeds council because he felt traffic noise had disrupted the event.
Now the authority has agreed to halt traffic around the cenotaph during the Armistice Day ceremony on Thursday.
He said: "I was delighted when I heard. I feel quite justified in raising the matter."
Mr Swindells was 23 when he went to fight in World War II.
He said: "I lost quite a lot of friends... school friends, some of my colleagues were lost by armoured units coming through the camp and others by dive bombing... I have very vivid memories of what happened."
Over the years he has attended the city's Armistice Day ceremony but said the traffic noise was a distraction during the two-minute silence.
"It's always annoyed me that traffic continues to go past.
"I just felt in view of the present conflict in Iraq and Afghanistan that so many lives are still being lost the council could hardly refuse.
"I would have regarded it as an insult to the people that are sacrificing their lives every day."
Leeds City Council said road closures would be in place along the Headrow between Park Row and Oxford Row from 1058 and 1103 BST.
Related Internet Links
The BBC is not responsible for the content of external sites.