Leeds council alters bin collection routes after strike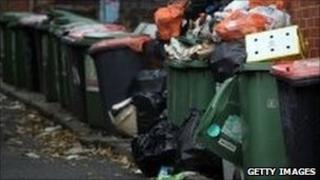 Changes designed to improve the productivity of bin collections in Leeds will be made later this month.
Refuse and recycling collection routes across the city are being overhauled to make them more efficient, in a move the council says will save it £2.4m a year.
The efficiency measures are part of a deal that ended last year's 11-week strike by refuse workers.
Teams will work together to empty bins in zones, rather than individual crews collecting from a specific route.
Hundreds of refuse workers in Leeds walked out last September over claims by the unions that a new pay system would have led to a wage cut of up to £5,000.
They returned to work in November after accepting a new offer from the council which was dependent on productivity targets being met.
A council spokesman said it had been "working closely with staff and trade unions to agree the more efficient routes and revised working practices".
He said: "Some bin collection days will change but one of the main benefits to residents will be that refuse crews will be working together to ensure all bins in each area are picked up on the right day.
"The new zone-style working will mean that if one crew is held up for any reason other crews in the area can help them once their streets are completed.
"Reports of missed bins will also be able to be dealt with more rapidly."
Residents will receive newsletters informing them of the changes and detailing their collection days in the next few weeks.