Guide dog attack by bull terriers in Leeds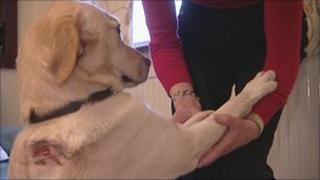 A widow says she has been left traumatised after her guide dog was attacked by two Staffordshire bull terriers in Leeds.
Maureen O'Hara, who is blind, had been walking with a friend in the Oakwood area.
Her guide dog Wella suffered bite wounds to her neck and her friend was knocked to the ground.
It is one of an increasing number of attacks on guide dogs in West Yorkshire.
Janet Champion from the charity, Guide Dogs for the Blind Association, said there had been four attacks on guide dogs in the past eight weeks.
She said it was possible that the dogs' calm and friendly nature was one of the reasons why they were being attacked by other animals.
'Pulled to pieces'
Ms Champion said: "It's not just a dog-on-dog attack. It is actually an extension of the owner.
"They are attacking the owner themselves because somebody's independent mobility is lost when the dog is out of action."
She said it cost about £50,000 to train a new guide dog, and added that it could be some months before Wella was back to full fitness.
Speaking about her ordeal, Mrs O'Hara said: "It was the most scariest thing. I could visualise that she was being pulled to pieces.
"Another five or 10 minutes it would have been horrendous."
Mrs O'Hara's friend Barbara Ruddock, who was with her at the time of the attack, said: "I just feel something should be done about these dogs without any leads on. And they all should have muzzles."