Colony of bats stall bridge work in Otley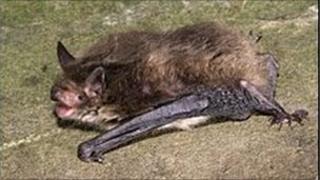 A colony of bats has stalled gas pipe improvement works at a bridge in West Yorkshire.
Engineers are due to replace a gas main that runs under Billams Hill Bridge, Otley.
Northern Gas Networks is now working with Natural England, the Environment Agency and consultant ecologists to survey the area.
Around 40 Daubenton's bats live under the bridge. It is thought they colonised the structure centuries ago.
Northern Gas Networks said the bats, which are a protected species, share the bridge with a metal gas main which runs along the underside of the crossing.
The old pipe needs replacing with a modern plastic main.
Guy Morrison, from Greengage Arboriculture and Ecology, said Northern Gas Networks asked them to carry out night-time surveys at Billams Hill.
He said: "We now know they are clustered under the central section of the bridge and that's also where they raise their young so it's vital that this work does not disturb them.
"We think it will be possible to carry out the work without disturbing the bats - so long as engineers go in after the maternity season and before the bats hibernate for the winter."
The gas works are expected to take place in early October - provided experts give the go ahead.
Around 100 metres of old iron gas main will be replaced with plastic pipe along the bridge and out towards the rear of properties on Bridge Avenue.