Yorkshire Air Ambulance team save colleague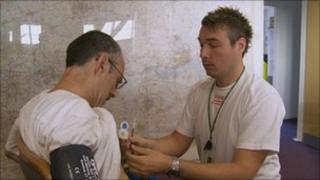 Paramedics from the Yorkshire Air Ambulance have saved the life of one of their own team members after their dispatcher suffered a heart attack.
It happened at the charity's Leeds-Bradford base. A BBC camera crew, filming Helicopter Heroes, was at the scene at the time.
Chris Solomons was treated by his team's paramedics and then taken to hospital by the air ambulance.
Mr Solomons is now recovering and hopes to be back at work soon.
Paramedics James Vine and Lee Davison treated Mr Solomons.
Mr Davison said: "We had to shock him twice to get his heart back into a normal rhythm. Then we worked on him with some CPR."
Mr Solomons said: "I was scared." He said he couldn't open his hands and added: "And the pins and needles was horrendous.
"I then realised something was going on, and this wasn't any type of indigestion. The pins and needles was going down my legs as well. It wasn't the type of thing I would like to experience again."
Helicopter Heroes BBC HD Channel at 1600 BST and BBC One at 0915 BST.