Sat-nav warning to ambulances after Leeds rail death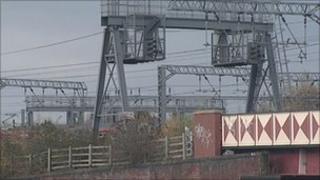 Investigators have urged ambulance crews to rely less on sat-nav systems after revealing a driver could not find the site of a fatal train accident.
Track worker Ernest Rodgerson, 60, died when he was hit by an empty train just outside Leeds station in December 2009.
Accident investigators said the ambulance driver needed help to find the site as it did not have a postcode.
However it ruled Mr Rodgerson had been standing in the train's path and the delay did not affect if he had lived.
The Rail Accident Investigation Branch (RAIB) said the ambulance driver had been unable to use the grid reference for the site given by a worker.
In its accident report the RAIB said: "It was fortunate the controller of site safety knew the area well and was able to direct the ambulance to the access point.
"On this occasion the ambulance lost little time navigating to site in this way and it did not affect the consequences of the accident."
Worker 'experienced'
The RAIB urged ambulance services in the UK to consider ways to reduce the risk of drivers being unable to find places that do not have postcodes, such as making arrangements for them to navigate using grid references.
The report said Mr Rodgerson, who had been acting as a lookout for five colleagues as they worked on the tracks, was an "experienced and safety conscious" man who had worked on the railway in and around Leeds for 35 years.
It said he had been standing in the path of the train as it approached and did not move, and concluded that he was unaware he was in the path of trains or that a train was approaching him.
The report also called on Network Rail to "consider ways to reduce the risk of lookouts moving dangerously close to trains and if appropriate make arrangements to physically identify a safe position".
In a statement Yorkshire Ambulance Service NHS Trust, which was called to the incident, said: "The trust is committed to providing the highest quality care to patients.
"We co-operated fully with the enquiry made by the RAIB into this incident and will consider the outcome of the investigation to see whether lessons can be learned as part of our continued commitment to patients in the future."
Network Rail said safety on the railways was a "paramount concern" and it would "carefully review the recommendations of this report".