Family flee Morley home after sewage leak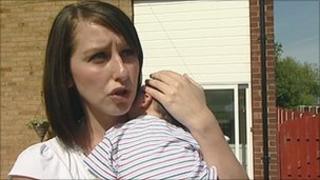 A couple and their baby have had to leave their home after building workers damaged a pipe and caused raw sewage to spill into the garden.
Claire Lambert said the spillage caused an unbearable smell and unhygienic conditions at her home in Morley, near Leeds, West Yorkshire.
Ms Lambert said the incident had ruined her enjoyment of being a new mother to her five-week-old son Charlie.
Developers Lovell, who are building housing nearby, have apologised.
Ms Lambert said she woke up to find the sewage spilling out on to her garden from a manhole.
She said: "It was about an inch deep, there was faeces everywhere."
The upstairs toilet also became blocked and overflowed, leading to sewage leaking down through the floor to the kitchen.
Ms Lambert said: "We've not been able to enjoy our newborn. It's just ruined the whole experience really."
The damage has been fixed but Ms Lambert said she was unable to move back into the house because there was still an "overwhelming" smell.
In a statement, Lovell said: "We fully accept the incident occurred when a drainage pipe connecting to the property was accidentally damaged during the construction of a road.
"We very much regret the disruption caused and have apologised and carried out a full repair which has been inspected by the council."