Land confirmed for Castleford Tigers rugby stadium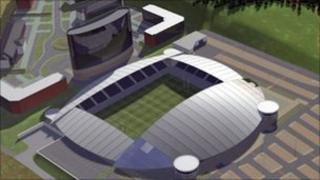 Land has been confirmed for a new multi-million pound stadium for a West Yorkshire rugby league club.
Castleford Tigers rugby league club is preparing to move to a 20-acre plot at Glasshoughton. It is hoped development will begin in 2011.
The club currently uses The Jungle stadium at Wheldon Road, Castleford.
Waystone Ltd has already secured planning consent at the 335-acre site, which is currently home to Xscape and the Designer Outlet Village.
Stuart McLoughlin, managing director at Waystone, said: "We are delighted to support the Tigers on their road to secure a new home for a Super League future.
"Glasshoughton attracts 3.5m visitors each year. With major infrastructure, such as an adjacent railway station and direct motorway access, already in place it provides the ideal location for a new stadium facility."
'Community focus'
In the long-term the company said it hoped to be able to add further leisure provisions to the stadium site.
Tigers Chief Executive Richard Wright said: "This agreement secures the 20-acre site at Glasshoughton on behalf of the club and is another step forward in delivering the stadium.
"We have an excellent working relationship with Stuart McLoughlin and Waystone and this has enabled us to advance the stadium to this point. Our next objective is to complete the detailed design and this process is now well under way".
The Castleford Tigers website said "regeneration" was at the heart of the project and said about £75m would be invested into the development.
It added: "The stadium project will create a multi-activity venue designed to provide dynamic, high-quality sporting environment with a community focus."