Blackpool Zoo marks 50 years of animal keeping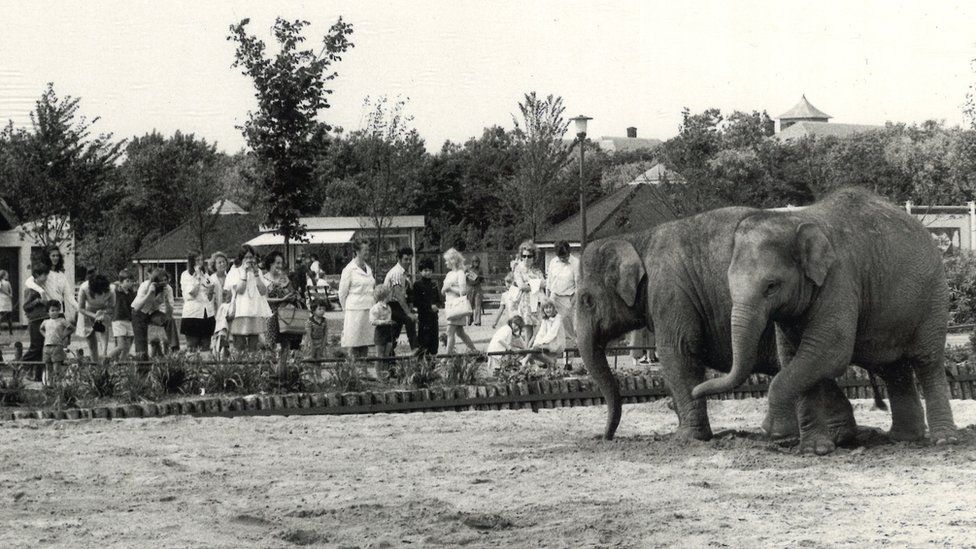 Blackpool Zoo is marking 50 years of animal keeping - long since the days when it housed elephants in aircraft hangars and zookeepers in a traffic control tower.
The zoo opened on 6 July 1972 on a former airport site.
Some 3,500 visitors braved heavy rain that day to see TV presenter Johnny Morris open the attraction, riding a circus elephant.
The zoo has announced a special weekend of plans to mark the half century.
Rebecca Wood, head of education, said visitors will be able to look back at the zoo's history in a new exhibition.
The zoo was built on the Royal Lancashire Showground, which had previously been Blackpool Municipal Airport.
In the early days it made use of old aircraft hangars to house its elephants and put offices and a classroom in the air traffic control tower - the site of animal manager Mike Woolham's current home.
Ticket prices on the opening day were 33p entry for adults and 17p for children.
The 37-acre zoo is now home to more than 1,000 mammals, birds and reptiles.
But it started with just three white rhinos, two giraffes, some sea lions, gorillas, chimpanzees, orangutans, lions, two giant tortoises and two Asian elephants.
One of those elephants, Kate, is now 53 years old and still lives at the zoo, which has evolved to become an important breeding and conservation site.
Elephant keeper Lauren Shields said the focus these days is on "research and catering to the animals' needs".
"There's no riding elephants any more, times have changed", she said.
Khaled Fawzy said visitors used to "dangle their legs" into the sea lion enclosure, which would not be allowed now.
He said there has been a lot of change over the years leading to "better welfare and environments".
Last year the zoo's longest-serving keeper, Peter Morris, who joined in 1973 aged 17, retired after nearly half a century in the job.
The zoo is now looking to the future with plans announced in February for a new big cat enclosure including two public viewing dens.
Ms Wood, who is in charge of education, research and conservation, said the anniversary will be "great" and would feature a "selfie station" for people to take photos, alongside history talks and other activities around the zoo.
She said the zoo is looking forward to hopefully welcoming a new generation of baby elephants and orangutans in the near future.
Related Internet Links
The BBC is not responsible for the content of external sites.