Hazel dormice released to create 'northern stronghold' near Carnforth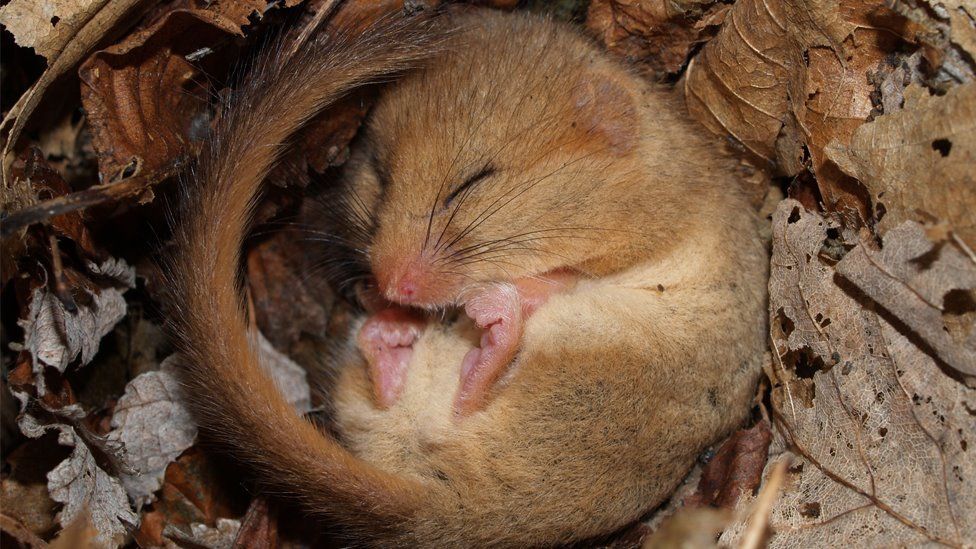 Thirty-nine hazel dormice have been released in rural Lancashire to create a "northern stronghold" for the under-threat rodents.
The mice were reintroduced to the National Trust's (NT) ancient woodland in an effort to help the species.
It follows the 2021 release of 30 mice in the nearby Arnside and Silverdale Area of Outstanding Natural Beauty.
The releases are part of an attempt to create a bigger and better-connected population in north-west England.
The team behind the efforts said it was hoped further releases will take place in the area in the future, and there are plans to erect a dormouse bridge over the West Coast Mainline railway to connect the 2021 and 2022 reintroduction sites.
The native dormouse has suffered declines of more than half since 2000 and has vanished from 17 English counties.
Annual dormouse reintroductions began in 1993, with the 1,000th captive-bred hazel dormouse released in 2021.
The project is a collaboration between wildlife charity People's Trust for Endangered Species (PTES), NT and the University of Cumbria.
PTES's dormouse and training officer Ian White said those released in 2021 were thriving, with several pups born in the autumn, and it was hoped the new additions would develop in time to meet up with their neighbours.
"The only way we can rebuild their populations is to continue managing known habitats correctly to ensure the survival of any existing populations and to carefully release healthy, captive bred dormice into well-managed woodlands," he said.
NT ranger Jamie Armstrong said the charity's woodlands had been "carefully managed... for decades to ensure that they support a wide range of flora and fauna".
"This work has led to a diverse woodland structure which makes the chosen area the ideal habitat for dormice," he added.
"This, coupled with its close proximity to the 2021 reintroduction site, will hopefully create a thriving population which will spread throughout neighbouring woodlands."
Related Internet Links
The BBC is not responsible for the content of external sites.