Jake Daniels a role model for young people, says Blackpool Pride boss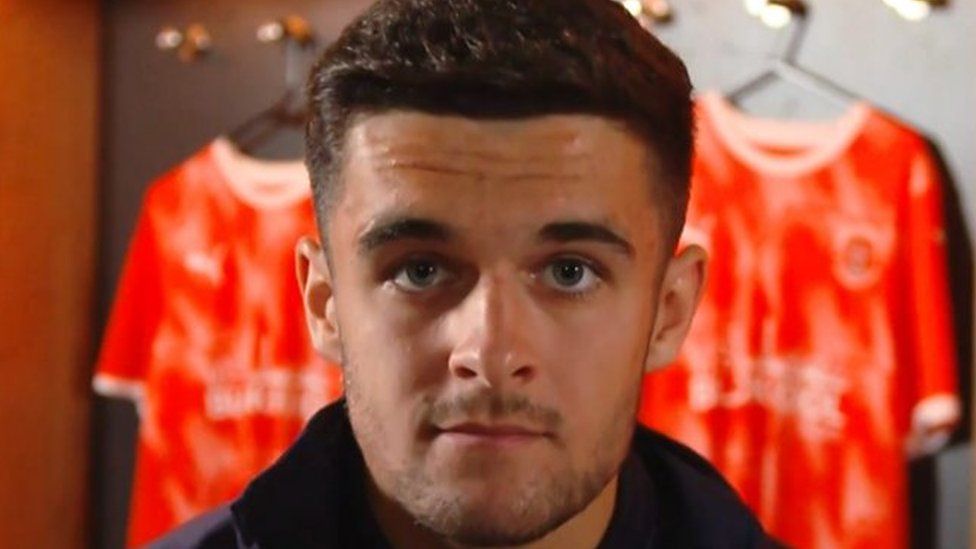 The decision by Blackpool FC's Jake Daniels to reveal his sexuality is "incredibly brave and courageous", the chairman of the town's Pride festival has said.
Paul Dewick Day, from Pride Blackpool, said the Championship forward was "100% a role model for young people".
He added the "phenomenal community" had already shown much support for Daniels.
"Hopefully this will be a springboard as there has always been a stigma in sport, particularly in football, even though clubs are supportive," he said.
"It is absolutely amazing. What a legend! It is so exciting and we want to invite him to Pride Blackpool on 11 June."
Daniels, who has been with Blackpool since the age of seven and now has a professional contract, made his first-team debut earlier this month.
He said his announcement had come at the end of a "fantastic" season.
He told Sky Sports that while he had known he was gay since he was five or six, "off the pitch I've been hiding the real me and who I really am".
Tangerines fan Brian Clark, praised Daniels' decision to come out as the UK's only openly gay male professional footballer.
"As Blackpool FC is such a unique community club with passionate, noisy fans that have gone through hard times and boycotts, there is no better place for Jake to be welcomed as coming out," he said.
The 56-year-old landscape gardener, from Bispham, said he knew Daniels was a "natural player" after first watching him play live on YouTube for the club's under-18s.
"Blackpool fans will have no issues whatsoever and will welcome him as a great future for our great club," he said.
"What a great character he must be to be so open and I'm certain he will go on to be a great player for the Seasiders."
Fellow Blackpool supporter Steve Tesc, 40, said it was "a sad indictment of society in general that in the 21st Century, someone is seen as brave for living their life how they want and being honest about it".
"I do think what Jake has done is brave but I don't think it should need to be; society in general still has a long way to go.
"Having said that, I've no doubt his selfless actions will encourage lots of others to do the same which will only improve the situation more and more quickly for others in the same situation.
"From a Blackpool fan point of view hopefully it gives him the freedom in his own mind to fulfil his ability and go on and be a really top player."
DJ Zoe at the Funny Girls cabaret and party venue said Daniels could be a "beacon for gay people".
"Good on him. He will be much happier and this could help others and inspire them as they see someone in the spotlight come out," she said.
The 60-year-old, who has been at the venue since it opened in 1994, said a friend in the emergency services had been hiding his sexuality for years.
"It is heart-breaking as he feels trapped in a macho job and is too scared to come out," she said.
He said: "Blackpool is a very open town and embraces everyone. I feel lucky to have grown up with the gay scene here."
Blackpool comedian Joey Blower said Daniels' sexuality should not even be a topic for discussion.
Writing on Facebook, he said: "In any other trade it wouldn't be seen as a massive thing but for some reason in football it is.
"Jake would obviously have been a success in whatever career he chose but as it's football it's a major story.
"Well done young man and now hopefully others will not be scared to open up and maybe in my lifetime it won't be such a taboo subject."
Anthony Harrison-West, Blackpool's community development lead for the Horizon LGBTQ+ service, said he was "really proud" of Daniels for "standing proud".
"As a town that has always championed our community and diversity, it seems extra special that one of our own football players has made what must have been a monumental decision, to be open about his sexuality within the sport," he said.
Joe White, co-chairman of Pride In Football, a network of UK LGBTQ+ fan groups, said it was "wonderful" news.
He said: "I can't stop smiling whenever we're talking about it so I think that says it all."
Mr White said when they were young, football was "not a welcoming place" for LGBTQ+ people.
"I'd go to games and you'd hear homophobic chanting, homophobic slurs," he said.
"And when you realise that, actually, those words are about someone like you, it makes it feel like football is an alienating place."
Blackpool FC's academy director Ciaran Donnelly said the club had been "taken aback by just how big the response has been".
"It's hard to prepare because it's unchartered waters but the reaction has been unbelievable," he said.
"The positivity coming his way will make him feel on top of the world."
He said the reaction of his teammates had been "really impressive".
"They applauded him when he had a short meeting with them to let them know," he added.
"We tried not to make it a formal process as we wanted Jake to be in control."
Related Internet Links
The BBC is not responsible for the content of external sites.