Fracking: Cuadrilla energy boss urges revival after Russian invasion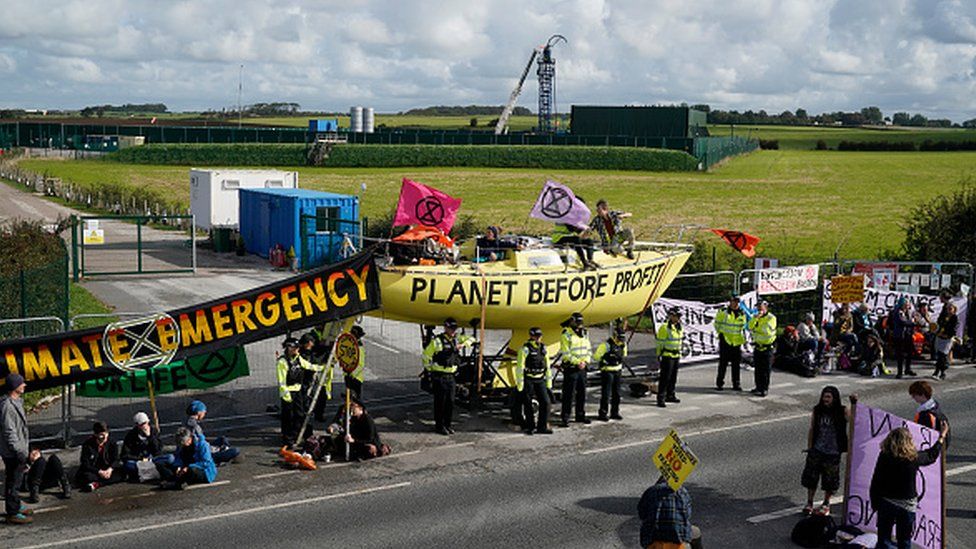 The boss of energy firm Cuadrilla has called for the government to restart fracking in its bid to reduce the UK's reliance on Russian gas.
Cuadrilla chief executive Francis Egan said government officials are "dragging their heels" over a fracking U-turn.
Mr Egan, whose firm owns the two wells, said: "In the absence of any action to back-up the rhetoric, we have had to press ahead with preparing and moving a rig to our Preston New Road site to plug these wells.
"If we are serious about energy security, as a very basic first step we must not concrete-up these wells.
"Then we need urgently to lift the shale gas moratorium and use these and additional wells to produce domestic shale gas."
The prime minister's spokesman said: "We want to keep all options available to us, given these unique circumstances we find with the war in Ukraine, to help us move away from Russian gas.
"Beyond that we haven't provided any further updates but we will do so if that changes.
"While we are developing our plans, which we are going to be set out this month, the moratorium on shale gas does remain in place."
The wells at the Preston New Road site near Blackpool were the first to frack horizontally onshore in the UK - a process which releases gas from shale rock.
Shale gas extraction - also known as fracking - was suspended in August 2019 after activity at Cuadrilla's site in Lancashire caused a magnitude 2.9 earthquake.
The Department for Business, Energy and Industrial Strategy said that, after the Oil and Gas Authority concluded that further seismic activity could not be ruled out, "further consents for fracking will not be granted" unless the industry "can reliably predict and control tremors" linked to the process.
However, it stopped short of an outright ban, despite calls from Labour, Lib Dems and the Greens for fracking to be outlawed.
A previous moratorium of the activity, which lasted a year, was introduced in November 2011 following earth tremors.
Related Internet Links
The BBC is not responsible for the content of external sites.