Rare kingfisher spotting draws crowds to Lancashire beauty spot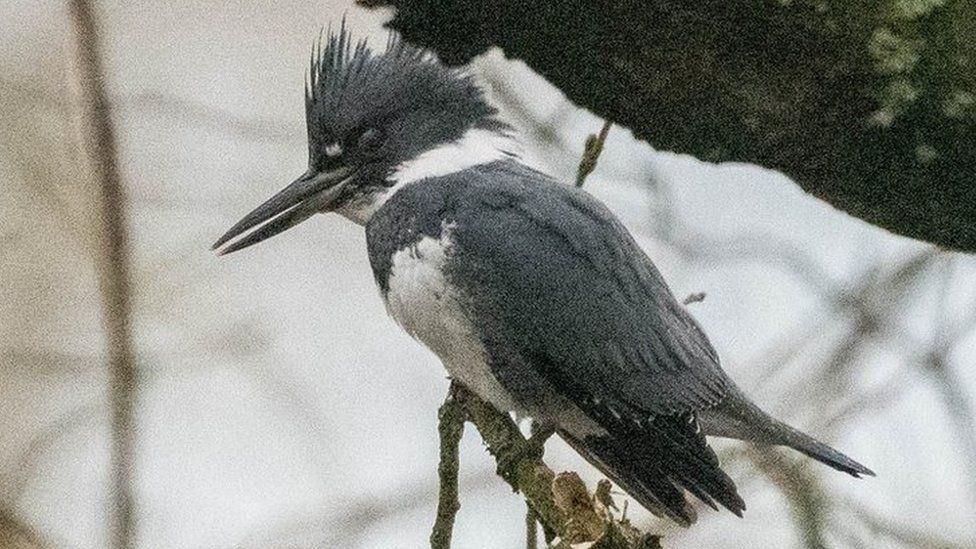 An extremely rare exotic kingfisher has been spotted in Lancashire, prompting visitors to flock to a nature reserve.
Birdwatchers saw the belted kingfisher near Samlesbury before tracking it as it flew to Brockholes Nature Reserve.
The bird, known for its shaggy crest and more commonly seen in the US, has been officially recorded in the UK only three times previously.
Twitcher George Shannon said his "heart pounded" and he "couldn't believe it" when he saw it swoop past.
The species, which is larger than its British relative and also known for its white collar, is generally found by lakes in the US and Canada.
Lancashire Wildlife Trust said the only known previous sightings had been made in Staffordshire, twice, and once in Ireland.
Mr Shannon said he was by the River Ribble in Red Scar Wood when he saw the bird "bobbing and twitching around" opposite him.
"I heard an unfamiliar rattling croaky call and watched a slate blue and white bird flying upstream towards me," he continued.
"I thought it has to be a belted kingfisher, but it cannot possibly be. It was stunning."
The bird has since been seen "pretty much everyday" around rivers and canals near Brockholes Nature Reserve, the wildlife trust said.
Fellow spotter Leonard Poxon said his "luck was in" when he captured the kingfisher on his camera in Withnell Fold.
"I saw it plunge-dive several times and saw it catch at least one fish," Mr Poxon added.
The wildlife trust said the species are "really shy" but due to its size it "could not hide away for too long".
The trust added there was a "good chance" the kingfisher would remain in the area if it liked the conditions.
Related Internet Links
The BBC is not responsible for the content of external sites.