Blackpool Tower lit up in tribute to dad who died of cancer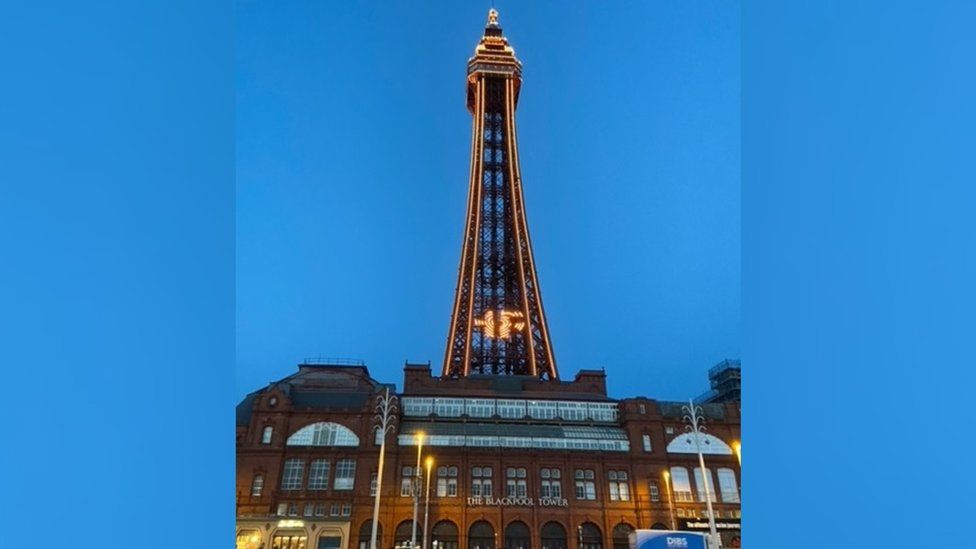 Blackpool's famous tower has been lit up in tangerine in honour of a father-of-three who died of cancer.
Friends of Chris Peachey, 38, who died last week, wanted the landmark lit in his beloved Blackpool FC's colours.
His widow Lisa said: "I just couldn't believe it when they told me. Chris would have been amazed, he was Blackpool through and through."
A tower spokeswoman said it was seen by "many in the UK as a beacon of hope and love" across the country.
Mr Peachey was diagnosed first with oesophageal cancer and then neck cancer which led to the removal of his voice box.
The tower was lit from 17:00 BST and a group of his friends and family toasted him at 19:00 on the prom below the tourist attraction.
Friend Jordan Hayes said Mr Peachey, who worked as a supermarket manger, "lived for his family".
"It's easy to say with somebody who has been your best mate for 20 years but I hand on heart don't know anybody who didn't get on with him, he was solid gold," he said.
"When we knew Chris didn't have long we wanted to do something for him, tragically he lost his brave fight against cancer before he could see it."
In addition to the annual illuminations, the tower is usually lit for national events or occasionally for individuals.
A Blackpool Tower spokeswoman said: "The Blackpool Tower joins Chris's family and friends to remember a father-of-three who will be sadly missed by his loved ones."
Related Internet Links
The BBC is not responsible for the content of external sites.