Corbyn demands fracking ban at Lancashire protest visit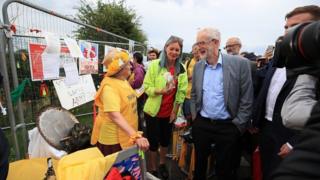 Labour leader Jeremy Corbyn has joined anti-fracking protesters to call for an immediate ban on the practice.
He said fracking was "dangerous" to the environment as he met protesters at the UK's only active shale gas extraction site in Preston New Road, Lancashire.
Labour said the UK risks missing net-zero carbon targets by 2050 if it continues to exploit gas reserves.
The government said shale gas extracted from fracking has the potential to be "a new domestic energy source".
'On-site brew'
Mr Corbyn spoke to about 100 anti-fracking protesters outside the Preston New Road fracking site, which has been the focus of long-running protests by environmental groups.
He said Labour would ban fracking and instead focus on creating a "green industrial revolution", which would include investment in tidal power.
"We need urgent action to tackle the climate emergency, and that means the Prime Minister immediately banning fracking once and for all," he said.
At the scene
Phil McCann, BBC North West political reporter
The torrential downpours didn't deter the campaigners who've been holding protests here for five years.
Nor did they deter Mr Corbyn from staking out a key difference between Labour and the Conservatives.
Mr Corbyn's message was music to their ears, but it's not the first time he has promised to ban fracking.
His words perhaps now have more currency, coming after the government pledged to cut the UK's emissions by 80% to fight climate change, a pledge that Labour says can't be kept if fracking is permitted across the country.
Their figures are questioned by the industry and the government - both of whom point to the independent Committee on Climate Change which forecasts the UK will still use 70% of the gas it currently uses by the year 2050.
The question they ask Labour: if we don't want to continue to rely on foreign gas and we don't want to extract our own from the ground, where will it all come from?
Cuadrilla, which operates Preston New Road, said it had invited Mr Corbyn "to chat to our local workforce as well as [protesters] at the gates" and have a tour of the site.
It said later in a tweet that the Labour leader "left without taking up our offer of an on-site brew with some local people".
The firm's chief executive Francis Egan told BBC Radio 4's Today programme earlier it was "astonishing... the Labour Party is saying we should be offshoring our jobs".
The Department for Business, Energy and Industrial Strategy said: "Independent climate experts have recognised natural gas has a role to play as we meet our 2050 net zero emissions target - now firmly set in law.
"Exploring the potential of a new domestic energy source is not only compatible with these world-leading climate goals, it could also deliver substantial economic benefits, through the creation of well paid, high-quality jobs."
The Preston New Road site began fracking in October but operations were halted on a number of occasions due to underground tremors.
Cuadrilla said it expects to resume fracking by the end of August.
What is fracking?
Hydraulic fracturing, or fracking, is a technique to extract gas and oil from the earth
Liquid is pumped underground at high pressure to fracture shale rock and release gas or oil within
The Department for Business, Energy & Industrial Strategy says shale gas "has the potential to be a new domestic energy source"
Governments in Scotland, Wales and Northern Ireland have said they will oppose fracking until further research is completed into its environmental impact