Cigarette butt artist to open Blackpool gallery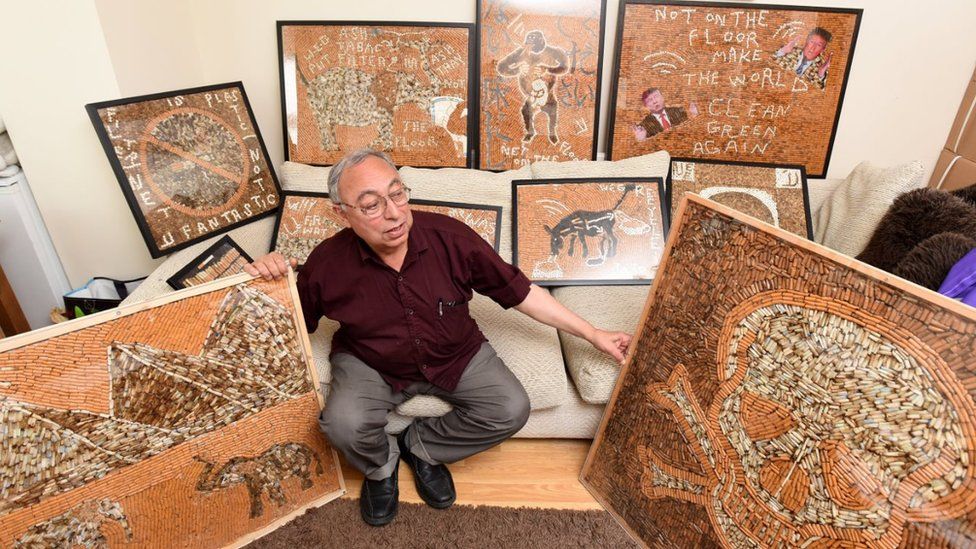 Art made from cigarette butts is to be displayed in a new gallery to highlight the issue of plastic pollution and to encourage people to give up smoking.
Retired pharmacist Negweny El Assal has collected about 120,000 discarded cigarette ends from Blackpool's streets and turned them into mosaics.
He has been given planning permission to open a gallery in a former bank on Central Drive.
Mr El Assal said people could see the art and learn what is in a cigarette.
His work includes a skull picture comprising 7,500 cigarette ends, as well as images of the pyramids, a sunrise and a donkey.
A no-smoking sign has been made using old roll-ups and cigarette filters, comparing used and unused filters to show the impact of smoking.
Mr El Assal told the BBC he has picked up cigarette ends since he was a child, when he would help homeless children in Egypt who traded them for accommodation and food.
When he moved to Blackpool he noticed "a lot" of the discarded butts and the council provided him with equipment to assist in his one man clean-up campaign.
"When it is raining butts become moistened and release chemical content then seagulls drink such water and I was crying from deep in my heart and insisting there would be no more cigarette butts in Blackpool," he said.
"I pick the butts myself and am so, so, so, happy when I find a group of them and I say to them they will never be in the street, 'you will be framed and one day the whole world can see you'."
Mr El Assal knows about the "dangerous chemicals" inside each butt from his work and did not want them to hurt the seaside town's seagulls.
Each piece of art is designed to send a message to smokers, he added, urging them to give up, resulting in fewer butts on the streets.
He told the Local Democracy Reporting Service: "My gallery would be for an exhibition of my art and also so people could learn what is in a cigarette and hopefully that would convince them not to smoke."
He uses toothpaste to secure the moistened butts, which also helps reduce the smell, he said.
"I stick them and laugh to them. I feel also they are happy with me."
The gallery is expected to open on 27 September.