Fleetwood nursing home blast leaves two injured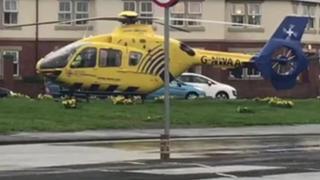 Two people are believed to have been hurt in a blast at a nursing home, Lancashire Police have said.
The explosion at Fleetwood Nursing Home, in Grange Road, Fleetwood, was heard at about 15:20 GMT.
Lancashire Fire said the blast, initially believed to have been caused by a gas cylinder, now appeared to be due to petrol vapour from a shed.
They said residents were unhurt and were being transferred from the affected sections of the building.
The injuries caused by the blast are not thought to be serious, Deputy Chief Fire Officer Justin Johnston said.
The fire service said windows in a conservatory had been shattered and the building had suffered structural damage but power and lights to the building were unaffected.
An inspection by the CQC last year found the home, which caters for up to 30 people who need residential or nursing care, required improvement.