Grade II listed Burnley Empire Theatre bought for £1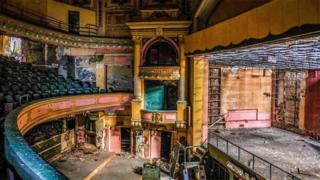 A dilapidated Grade II listed theatre that has stood empty for more than 20 years has been bought by restoration campaigners for £1.
Last used as a bingo hall in 1995, Burnley Empire Theatre was named the fifth most at risk theatre in the UK.
It was set to be auctioned until the Burnley Empire Theatre Trust (BETT) bought it from the Duchy of Lancaster.
BETT's Sophie Gibson said the theatre had a "bright future".
She said the group, which have been backed by an anonymous donor, intended to carry out a survey and carry out any immediate repair work, before starting on the longer-term restoration project.
Gaining ownership of the building was a "major milestone", she said, adding that there was now "a lot of hard work" ahead.
More stories from the North West of England
Opened in 1894, the Empire is the sole survivor of five variety music halls in Burnley and saw a performance from renowned illusionist Harry Houdini in 1902.
It was previously due to be sold at auction on 16 October, but was withdrawn to allow a viability study which found it had the "potential to be saved".