Cuadrilla will seek to raise fracking tremor threshold in Lancashire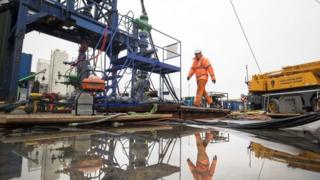 The company in charge of the UK's only active shale gas site said it would seek to raise the threshold of seismic activity at which fracking must stop.
Cuadrilla has had to stop fracking four times for breaching the current limit of 0.5 magnitude at its site in Little Plumpton, Lancashire.
Energy minister Claire Perry said in October it would be "foolish" to change the threshold at present.
Cuadrilla confirmed the plan but did not provide a statement.
'Overly conservative'
Anti-fracking campaigners said they would strongly oppose any increase in the limit, which they said was in place for safety reasons.
The plan would need to be submitted to the government and was outlined in a statement from one of Cuadrilla's main investors, the Australian mining company A J Lucas.
Chairman Philip Arnall said the 0.5 ML threshold was regarded as "overly conservative".
But he said Cuadrilla was "working on the assumption that this constraint will not be altered for the current hydraulic fracturing operations".
Cuadrilla would also allow more fluid to come back to the surface after fracking, in an attempt to tackle the problem of earth tremors, the statement said.
This process is predicted to reduce friction in the well, which is more than 2km (1.2 miles) underground.
The statement to shareholders continued: "Cuadrilla will engage with the regulators and the industry to clearly demonstrate that a more appropriate upper limit on seismic monitoring should be set to enable optimal testing without compromising on world class environmental and safety measures."
A series of 36 small tremors have been recorded since the company began fracking at the site near Preston New Road on 15 October, the largest measured 1.1 magnitude.
Anti-fracking campaigners argue the process of fracking to extract shale gas poses risks to the environment.
A 2.3 magnitude tremor on the Fylde coast seven years ago was probably caused by shale gas test drilling, a study found.
Campaigners had tried to stop fracking at Little Plumpton with an injunction bid but failed.
Judgment has been reserved in a new legal action over fracking at the site.
Earlier, campaigning organisation Friends of the Earth accused the government of failing to consider measures which they said could reduce the impact from fracking on Lancashire's environment.
Mr Justice Supperstone reserved judgment on the case which was presented at a High Court hearing in London and will deliver his decision at a later date.