Ellie-May Minshull-Coyle death: 'Cage bed' couple jailed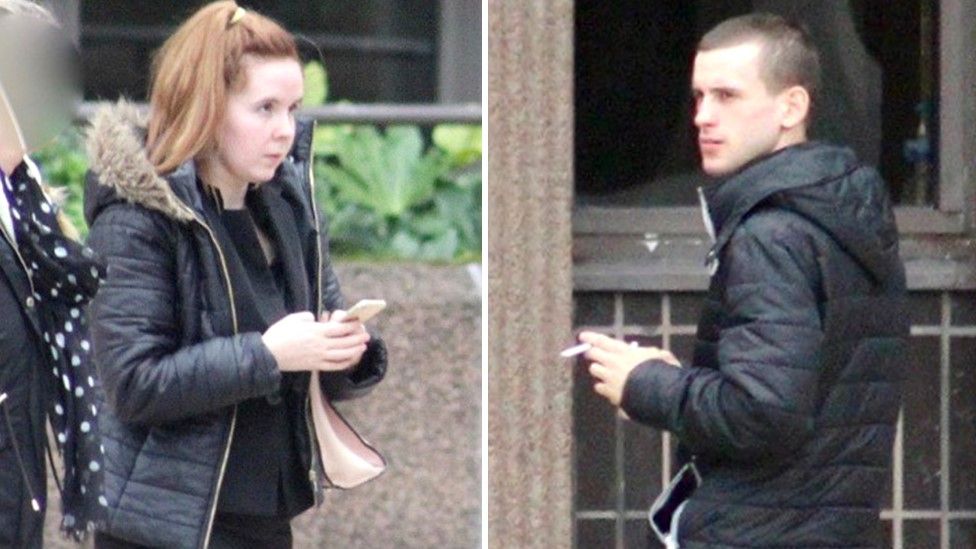 A woman and her ex-partner who strapped a toddler face down in a "monstrous cage bed" have each been sentenced to 10 years.
Ellie-May Minshull-Coyle was 19 months old when she died after being restrained in Preston in March 2017.
Her mother Lauren Coyle, 19, and stepfather Reece Hitchcott, 20, were both convicted of causing or allowing her death.
At Liverpool Crown Court, the pair were sentenced to 10 years in youth custody.
The bed was turned into a "cage" by lashing the slatted sides of a cot to the bed frame before being covered in sheets and towels.
Coyle said the bed had been converted by Hitchcott to help Ellie-May get into the routine of sleeping through the night.
Sentencing the pair, Mr Justice Dove said: "The bed you both created and used, night after night, was quite literally a death trap."
Coyle and Hitchcott were also previously found guilty of two counts of child cruelty, but cleared of manslaughter.
The judge said the pair had "extinguished" all the "positive energy and joy" Ellie-May brought into the world.
He said: "On the night of 22 March and 23 March 2017, undoubtedly in escalating distress and agony, Ellie-May Minshull-Coyle succumbed to asphyxiation while she was forcibly restrained in the cage which her toddler bed had been transformed into."
In a statement read to the court, Ellie-May's father John Minshull said: "Every day me and my mum think about Ellie and really miss her, we just wish we could give her a big hug and it breaks our hearts deeply."
On the night of her death, Ellie-May became unsettled and Coyle sent a strongly-worded Snapchat message to a friend suggesting she was irritated.
She then messaged her father at about 06:00 GMT to complain about the toddler crying,
When her father, Sean Coyle arrived at the flat to check on his granddaughter about three hours later, he realised there was a "terrible problem".
Ellie-May was not breathing and, despite attempts to resuscitate her, she died at Royal Preston Hospital.
A post-mortem examination found her death was caused by "forcible restraint by ligatures in a face-down position complicated by hyperthermia".
The judge said the couple had difficulties getting Ellie-May to sleep but had received good advice from grandparents and health visitors.
Despite the advice, Hitchcott still converted the purple Frozen bed into a "cage", placing sheets and bedding over the sides to prevent the toddler seeing outside.
The jury heard Ellie-May was also bound to the bed face down and there were marks on her wrists and ankles, suggesting she had been tied to it.
Mr Justice Dove said the pair would have been aware of the "obvious risks" but took them for their own "selfish reasons".
The couple's lodger Connor Kirby, 20, was cleared of all of the charges.
Related Internet Links
The BBC is not responsible for the content of external sites.