Bronze sword stolen from Lancaster war memorial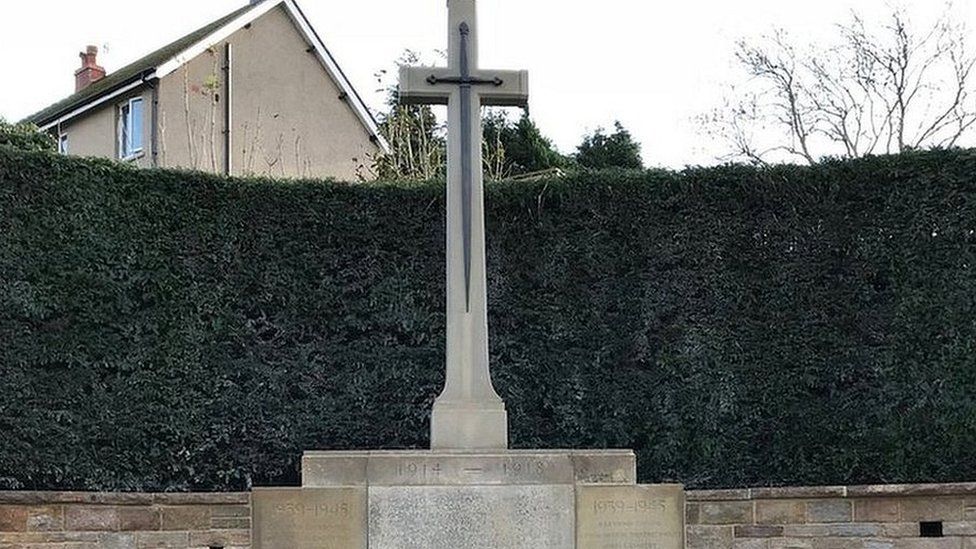 The race is on to replace a stolen 98-year-old bronze sword on a war memorial in time for Remembrance Sunday.
The sword was drilled into a stone cross in Main Road, Bolton-le-Sands, Lancashire and was taken between 14 and 18 October, the parish council said.
Keith Budden, chair of Bolton-le-Sands Parish Council, said the theft had "angered and saddened" villagers.
He said it was especially disrespectful as the 100th anniversary of the end of World War One approached.
Lancashire Police said the theft was being investigated and urged anyone with information to come forward.
Mr Budden said the council was desperately searching for a short-term replacement for the monument which he was told would cost about £4,000 to replace 10 years ago.
"It's hard to describe someone who would do this.
"Theft at any time is very upsetting, but particularly at this time of year makes it much worse."
More than 200 people are expected to gather at the memorial on Sunday for a service to commemorate war heroes.
The Reverend Nancy Goodrich from Holy Trinity Church, who is leading the service, said she was "shocked and angered" by the act.
Parish council clerk Patricia Bradley said: "We have hunted high and low for it.
"It wouldn't have been easy to steal it; it was drilled into the cross."
Mr Budden, who said the war memorial space was given a £15,000 refurbishment last year, said the council would look at finding a more long-term replacement after Sunday.
Related Internet Links
The BBC is not responsible for the content of external sites.