Ellie-May Minshull-Coyle: Stepdad denies tying her to 'cage bed'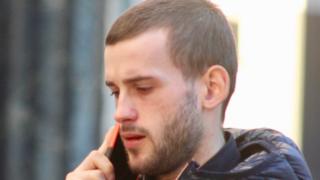 The stepfather of a toddler who died after being restrained in a "monstrous caged" bed, has denied tying her up.
Ellie-May Minshull-Coyle, aged 19 months, died last March in a flat she shared with her mother, Reece Hitchcott and a lodger in Lostock Hall, Preston.
Mr Hitchcott told Liverpool Crown Court he told Ellie-May he loved her when he put her to bed the previous night.
The toddler's mother Lauren Coyle, 19, her boyfriend Mr Hitchcott, 20, and Connor Kirby, all deny manslaughter.
Ms Coyle, now of Collins Road, Bamber Bridge, Preston, Mr Hitchcott, of The Fieldings, Fulwood, Preston, and Mr Kirby, of Octavia Court, Huyton, also each deny a count of causing or allowing the death of the child, one count of child cruelty by "caging" the child in her bed, and another count by restraining her in the bed.
Mr Hitchcott told the court he put Ellie-May to bed with the couple's lodger Mr Kirby, 20, and both told her they loved her and she said she loved them.
He told the jury he was up three times that night as she was crying, settling each time after he gave her the dummy she had dropped.
Mr Hitchcott, who admitted smoking cannabis that night, told the jury he heard Ellie-May crying at about 03:00 to 04:00 GMT and as Ms Coyle was not in bed he gathered she was sorting her out.
He said he later rang in sick for work and was asleep on the couch when Ms Coyle's father Sean knocked on the door.
'Very slightly breathing'
He said Ms Coyle asked him to get Ellie-May up while she let her father in.
Mr Hitchcott said he pulled her bed away from the wall and "saw Ellie on her back with sick coming out of her mouth".
He told the court he could "hear her breathing very slightly".
He said he took her into Ms Coyle's bedroom and put her on the bed. He noticed something black binding her legs together which Ms Coyle ripped off and threw on the floor.
Questioned whether he had placed any restraint on the toddler or put any ties on her wrists, he said: "No, never."
He admitted lashing the cot sides to the toddler's Frozen-themed bed, which Ms Coyle was happy with, adding Mr Kirby had helped him put one of the sides up.
The court has heard allegations Ellie-May had been tied down by blankets and died due to "forcible restraint by ligatures in a face down position" possibly complicated by "hyperthermia".
The trial continues.