Fracking in Lancashire suspended following earthquake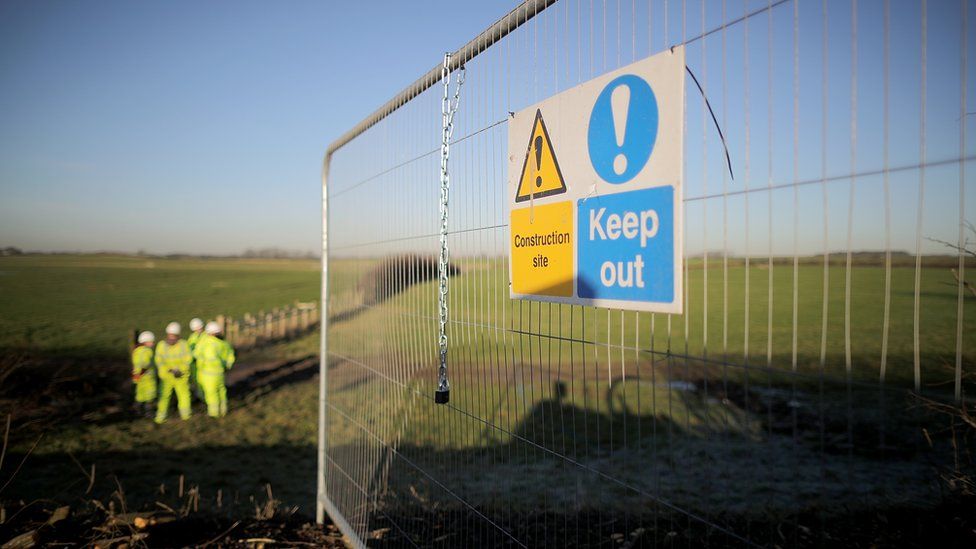 Operations have been suspended at the UK's only active shale gas fracking site following an earthquake - just 11 days after it was given the go ahead.
Energy firm Cuadrilla said it would halt fracking at the Lancashire site for 18 hours after a tremor of 0.8 magnitude was recorded.
Drilling for shale gas at Preston New Road, Little Plumpton, started on 15 October after a legal challenge failed.
Cuadrilla chief executive Francis Egan said people should not be concerned.
The seismic activity was detected by the British Geological Survey (BGS) at about 12:36 BST and is classed as a "red" event on the traffic light monitoring system regulated by the Oil and Gas Authority.
Any tremor measuring 0.5 or above means fracking must be temporarily stopped while tests are carried out.
Mr Egan said the 0.5 level was "far below anything that can be felt or cause damage or harm."
He added: "It is an extraordinarily conservative figure far below the 2.5 in Europe or 4 in Canada."
Mr Egan said he expected more incidents to be recorded because of the sensitivity of the recording equipment the company was using at the site in Lancashire.
A Cuadrilla spokesman added: "All the relevant regulators were informed without delay and we have verified that the well integrity is intact.
"As per the hydraulic fracture plan in place at Preston New Road, work will now pause for at least 18 hours and is expected to recommence on Saturday morning."
A 2.3 magnitude tremor on the Fylde coast seven years ago was probably caused by shale gas test drilling, a study found.
Cuadrilla said earlier this month it would spend at least three months fracking two horizontal wells and then test to see if the gas flow was commercially viable.
Anti-fracking campaigners had tried to stop the process with an injunction bid but failed.
Related Internet Links
The BBC is not responsible for the content of external sites.