Megan Lee: Takeaway owner 'did not know allergy risk'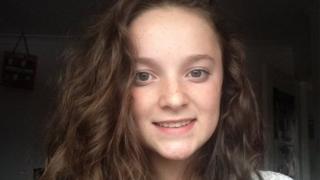 The death of a teenage girl who suffered an allergic reaction to a takeaway meal could not have been foreseen, the barrister representing the restaurant owner has said.
Megan Lee, 15, died after eating food containing peanuts from The Royal Spice takeaway in Oswaldtwistle, Lancashire.
Simon Myerson QC, representing owner Mohammed Kuddus, told Manchester Crown Court that nobody "knew the risk."
Mr Kuddus and co-accused Harun Rashid deny manslaughter.
The trial previously heard the 15-year-old suffered an acute asthma attack after eating food from Royal Spice on 30 December 2016, which her friend had ordered with a note reading "prawns, nuts" to show her allergies.
She died two days later after suffering irreversible brain damage.
'He knows nothing'
On Wednesday, the court heard Mr Kuddus would not give evidence in his defence, but in his closing speech, Mr Myerson said her death was "unpredictable".
"It didn't result from a serious and obvious risk of death, it resulted from a combination of circumstances which couldn't have been foreseen, were not foreseen and after the event weren't said to have been inevitable," he said.
He told the court Mr Kuddus, a Bangladeshi national who had an interpreter with him in the dock, could not read, write or speak English and was unaware of the note reading "prawns, nuts".
"He knows nothing about the order that night, except that he was the tandoori chef who prepared the bread," he said.
The jury heard earlier in the trial that Megan's death was "a disaster waiting to happen" because of a lack of procedure at the takeaway.
Mr Kuddus, 40, of Belper Street, Blackburn, earlier pleaded guilty to failing to discharge a general duty of employers, contrary to the Health and Safety at Work Act.
He also admitted failing to put in place, implement and maintain a permanent procedure or procedures in contravention of European Union food safety regulations.
Mr Kuddus also entered guilty pleas to the same offences on behalf of Royal Spice Takeaway Limited, trading as Royal Spice Takeaway.
Mr Rashid, 38, of Rudd Street, Haslingden, pleaded not guilty to those charges.
The trial continues.