Lancashire council votes for unstunned halal meat ban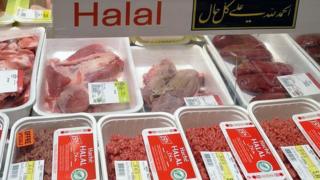 Councillors in Lancashire have again voted to stop supplying unstunned halal meat to its schools.
The cabinet had made a decision in July to provide only stunned meat, but had to re-run a public consultation following opposition from the Lancashire Council of Mosques (LCM).
The latest vote was made at a meeting of the full council a year after the proposal was first put before members.
Unstunned halal meat is supplied to 27 schools by the county council.
Before the vote, council leader Geoff Driver acknowledged members were dealing with "a very sensitive issue", but said animal welfare organisations were united in their belief that slaughter prior to stunning was "cruel", the Local Democracy Reporting Service said.
But Labour opposition leader Azhar Ali said the council should have done more to engage with Muslim and also Jewish groups who would be affected by the decision.
Speaking after the result of the vote, Abdul Qureshi, chief executive of the LCM, said he was "not surprised, but disappointed".
He added that he "doubted" the LCM would once again demand Muslims boycott all school meals in protest, saying he wanted the council to supply "healthy alternatives, like grilled fish".
The vote to stop supplying unstunned meat was carried by 49 votes to 23, with 9 abstentions.