Jailed anti-fracking protesters supported by Preston march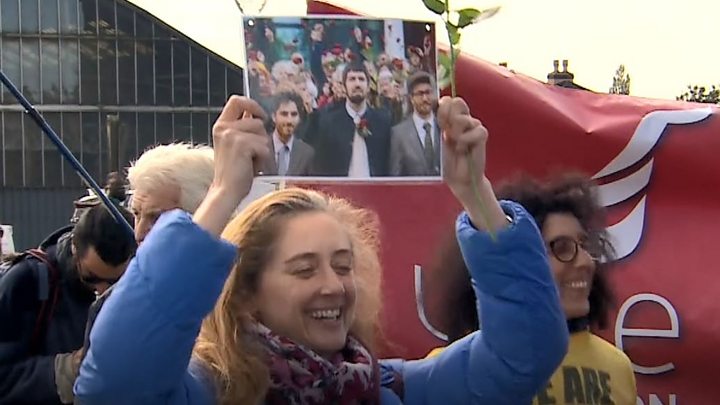 Supporters of three men jailed following an anti-fracking protest have been demonstrating outside the prison where they are being held.
Simon Blevins, Richard Roberts and Rich Loizou were sentenced in September for climbing on lorries at energy firm Cuadrilla's Preston New Road site.
About 200 people marched from Preston railway station to HMP Preston in support of the men.
Solicitors confirmed on Friday the men would be appealing their sentences.
The marching crowd chanted "free the three" and stopped traffic as they made their way to the prison, where they sang songs and banged drums.
Blevins, from Sheffield, and Roberts, from London, were jailed for 16 months, while Loizou, from Devon, received 15 months in prison.
Loizou's parents, Sharron and Platon, were among those marching in protest to the sentences.
Mrs Loizou said the support was "helping" her son, who she said would "never hurt anybody [and] just cares about the planet".
Her husband added the couple were "very sad" about what had happened and had "never believed it would come to a prison sentence".
The march's organiser Leigh Coghill said the men were "buoyed and entirely grateful for the support that they have received".
"I spoke to one of them this morning and he said the support has been like a blanket round the prison that made him feel safe," he added.
Others on the march included Isabelle Luterbacher and Tina Lynham, who travelled from Devon to support the "enthusiastic, energetic and inspirational" Loizou, and Miranda Cox, a town councillor in nearby Kirkham, who described the men's sentences as "draconian and unprecedented".
The protest came a day after Cuadrilla announced it would begin fracking at its site next week.
That announcement was followed by the granting of a temporary injunction, halting the start of work until a legal challenge is heard at the High Court on Wednesday.