Injunction seeks to halt start of fracking at Lancashire site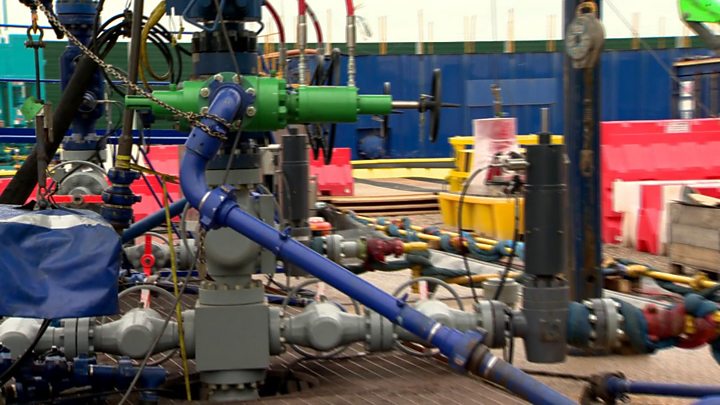 An injunction has been lodged to halt the start of fracking at one of the UK's first horizontal exploration wells.
Cuadrilla has drilled two wells at its Preston New Road site in Lancashire after being given the go-ahead to extract shale gas by the government.
The company's chief executive Francis Egan announced on Friday that fracking was due to start at one well next week.
However, the injunction bid will be heard at the High Court on 10 October.
Anti-fracking campaigner Bob Dennett from Lytham lodged papers at the court seeking an injunction to halt fracking operations in Little Plumpton.
He has claimed there was "no clear and robust plan" to evacuate residents in the event of an earthquake resulting from fracking.
A Cuadrilla spokesman said they were aware of the "last-ditch attempt to delay our efforts" but called the grounds for a judicial review "hopelessly weak".
"We remain confident that we and Lancashire County Council have undertaken all necessary risk assessments and have thorough emergency response safety procedures in place," the spokesman added.
The site has been the scene of repeated protests from campaigners who object to hydraulic fracturing and its potential impact on the environment.
The process sees liquid pumped at high pressure deep underground to fracture rock and release gas.
In 2011, fracking operations by Cuadrilla were suspended at Preese Hall near Blackpool after they were linked with two earth tremors.
Campaigner Tina Rothery, from Frack Free Lancashire, claimed people in the area were being treated like "guinea pigs".
"We have feared and dreaded this day for seven years," she said.
"We have done everything we can that is permitted in our democracy to stop this and we have had to resort to peaceful, not direct action.
"Why is it acceptable for the government to allow us to be treated like guinea pigs?"
Cuadrilla completed the first horizontal shale gas well in April, with a second well finished in July.
The company's CEO Francis Egan said results from a six-month test period were expected early next year. These will provide information on how much gas the firm could potentially recover.