Postman Pat and Rosie and Jim author John Cunliffe dies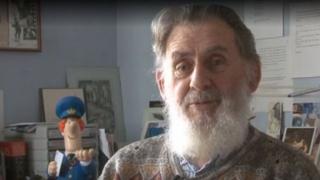 The creator of children's TV show Postman Pat has died.
Tributes have poured in for 85-year-old John Cunliffe, who was also the writer and star of Rosie and Jim.
The author was born in Colne, Lancashire and lived in Kendal, Cumbria. He took inspiration from the Lake District when creating the show's fictional village of Greendale.
The first episode was broadcast on 16 September 1981 and the animated series has appeared in more than 50 countries.
The family said Mr Cunliffe died at home after a short illness.
The notice of his death was published in the Ilkley Gazette and read: "John Cunliffe left his Ilkley home in a deluge of rain on 20 September, never to return.
"Even the skies wept for John, the gifted creator of Postman Pat, Rosie and Jim, and author of many earlier published collections of poetry and picture story books for children.
"John's last poetry collection, significantly entitled "Dare You Go", has now come to fruition for John [who] has dared to go and has gone."
Director of BBC Children's Alice Webb said Postman Pat had been a "hugely popular" character on the BBC for nearly 40 years thanks to the genuine charm and warmth John imbued in the characters that populate Greendale.
"It's a world you'd like to be part of - a community that cares, is full of heart and full of fun - and that is a lovely thing to show audiences, both young and old.
"I count myself lucky to be one of millions of children whose childhoods were enriched by John's creations."
Organisers of the Ilkley Literature Festival have also paid tribute to the writer.
A statement posted on Facebook said: "John, who was a long-time Ilkley resident, became patron of our Children's Festival when it started in 2003 and delighted children and parents at many festival events over the years."
Rachel Feldberg, festival director, said the festival was "honoured" to have him as patron.
"I have wonderful memories of events he did with us. His work, particularly Postman Pat, was iconic for everyone who grew up reading, watching and loving those characters and will continue to delight children for generations to come."
She added: "Our thoughts are with John's wife and family at this time."
Fiona Movley, chairwoman of the Harrogate International Festivals, tweeted it was "sad news" the "gifted creator John Cunliffe has died".
She added the notice was "very fitting".
Crime writer Lin Anderson tweeted: "My youngest son loved Postman Pat. As did I.
"I knitted him a jumper with Postman Pat on it. He never wanted to take it off. Thank you John Cunliffe."
Prisons Minister Paul Goggins once claimed his family was the inspiration for the Postman Pat character Mrs Goggins, who works in Greendale post office.
He said his uncle Edmund Goggins worked with Mr Cunliffe, who later lived in Ilkley in West Yorkshire, as a teacher in Manchester and probably was the inspiration for the name Goggins.