Second Preston bus lane camera fines reach £150k in 12 weeks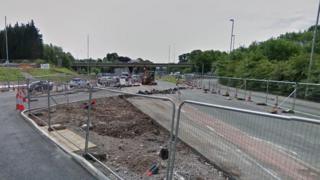 Motorists have been fined more than £150,000 in 12 weeks since new bus lane restrictions were imposed in Preston.
A new enforcement camera on the A6 at Broughton has captured almost 5,000 drivers in under three months, Lancashire County Council confirmed.
Similar cameras on Fishergate in Preston have brought in £726,000 in fines since last December.
Councillor Keith Iddon said: "We'd be happy if we didn't make a penny as people would be doing the right thing."
The aim of the new camera is to improve bus travel while also providing a shorter route for emergency services, added the council's executive member for transport.
"The bus lane is clearly signed and marked. We would rather that nobody used it as a short cut, however the enforcement camera is there to provide a deterrent."
The new bus lane, which links Garstang Road to James Towers Way, is currently snapping an an average of 58 motorists a day.
Motorists caught driving in the bus lane are issued with a £60 fixed penalty notice although this is reduced to £30 if paid within 14 days.
'Money-making'
The Fishergate bus lane in Preston city centre saw motorists hit by £115,000 in fines in only a week since it was re-enforced in December.
Lancashire County Council previously switched off the cameras on Fishergate due to inadequate warning signs.
But in the seven days after turning them back on, 1,924 drivers were fined £60 each - about £16,000 per day.
Businessman Graham Wakerley, 32, from Accrington, won an appeal against a bus lane fine he incurred at Fishergate in September 2016.
He believes the cameras are a "money-making scheme" by local authorities.
"In my case I couldn't see the sign to tell me it was a bus lane," he said. "It's often very confusing and it's only when a lot of people complain they hold their hands up."