Burnley fans gather for funeral of 'greatest ever' player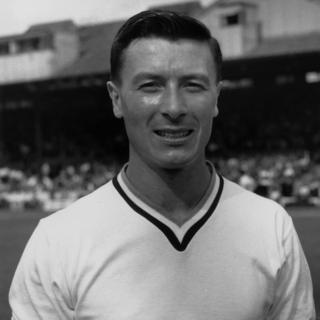 Burnley fans lined the streets to pay their last respects to a man commonly described as the club's "greatest ever player".
The funeral of Jimmy McIlroy was held at Burnley's Turf Moor stadium after his cortege passed through the town.
He played 497 games for the Clarets between 1950 and 1962, winning the old First Division title in 1960.
Burnley manager Sean Dyche and former teammates attended the funeral alongside McIlroy's family on Friday.
He died earlier this month aged 86 after a long battle with illness.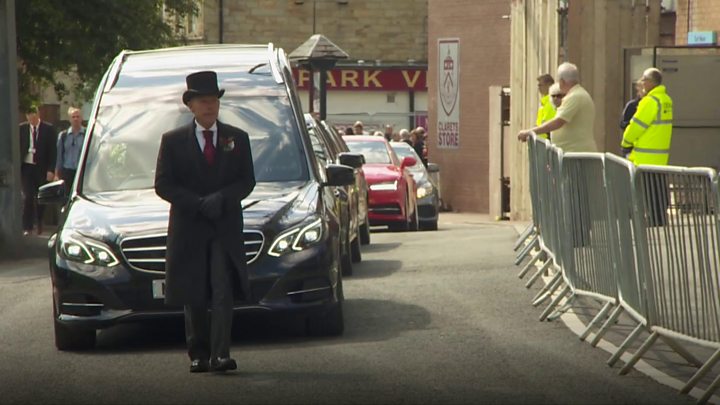 McIlroy also made 55 appearances for Northern Ireland, between 1951 and 1965, scoring 10 goals and helping the national side reach the World Cup quarter-finals in 1958.
Up to 3,000 fans, many wearing Burnley shirts and scarves, lined Harry Potts Way and broke into respectful applause as the hearse containing his coffin approached the ground.
More than 150 mourners attended the funeral in the James Hargreaves Stand, including daughter Anne, son Paul and three granddaughters.
Football figures who attended to pay their respects included former Aston Villa and Manchester United manager Tommy Docherty and ex-Manchester City player Mike Summerbee.
The club was represented by former chairman Barry Kilby and Stan Ternent, who managed Burnley between 1998 and 2004.
A eulogy was read by family friend Peter Salmon, a former BBC director, who paid tribute to a "remarkable man" and "genuine, funny and humble human being".
Mr Salmon described how Northern Ireland-born McIlroy had remained in Burnley after the end of his playing career until his death.
He said he had an amazing "feeling of pride" for the town, where he opened a gentleman's outfitters and worked as a journalist for the Burnley Express.
The service was followed by a private burial at Burnley Cemetery.
After leaving Burnley in 1962, McIlroy made 116 league appearances for Stoke before moving to Oldham.
He retired from playing in 1967.