Taxi driver helps teenager escape from Accrington fire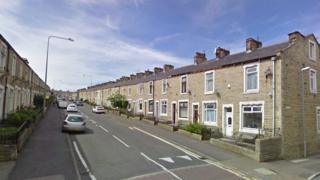 A taxi driver has been praised for helping a 15-year-old girl to escape from a house fire.
The blaze broke out in the house on Ormerod Street, Accrington, at about 16:15 BST on Thursday.
Naseer Hussain, who was passing the home, noticed the flames and alerted the family before helping the teenager to safety.
Lancashire Fire and Rescue Service said Mr Hussain's "selfless and brave" actions prevented further injury.
The fire was on the first floor on the mid-terraced house and the family inside told Mr Hussain that their 15-year-old daughter was upstairs in a loft bedroom on the second floor.
Mr Hussain went upstairs, passed the room which was ablaze, and encouraged the girl to come down the stairs and out of the property.
She was taken to hospital for checks after breathing in smoke.
The fire service said Mr Hussain's actions prevented firefighters from needing to rescue the teenager.
Three fire engines attended the blaze, with crews remaining on the scene for about two hours.
An investigation into the cause of the fire is under way.