United Utilities issued north-west England drought permits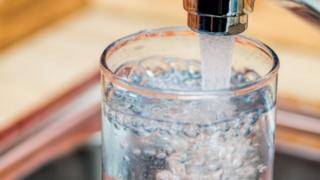 United Utilities has been issued with drought permits to take additional water from reservoirs in north-west England to maintain supplies.
It can take water from Windermere and Scales boreholes in Cumbria and Delph and Rivington reservoirs in Lancashire.
A hosepipe ban will be enforced if the permits are used before the end of September.
The Environment Agency said the plan would secure supplies for the region in case they are needed later in the year.
United Utilities had planned to bring in a hosepipe ban during the UK heatwave but later announced the need had been averted.
Water levels in the north-west improved slightly following rainfall and efforts to conserve water, the agency said.
'Use water wisely'
However, it warned the region had only seen half of the rainfall normally expected from May to July and current forecasts suggest there may be lower than average rainfall into autumn.
Agency drought manager Jim Ratcliffe said: "As the dry weather is set to continue, there could still be restrictions later in the summer so we continue to urge everyone to use water wisely.
"Our staff will continue to manage demand by working with farmers, businesses and others who abstract water.
"We continue to work with water companies across the country to ensure they are following robust drought plans."
The permits are ready to be implemented if they are needed to ensure water supplies are maintained and the environment is protected.