Lancaster flash flood prompts calls for more prevention measures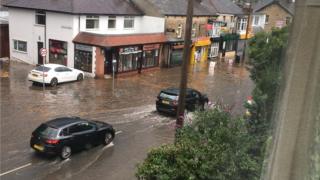 Residents who have suffered from flash flooding for the second time in a year have called for better drain clearage and flood prevention measures.
Businesses and homes in Lancaster were inundated on Saturday after a burst of heavy rain overwhelmed the drains.
Karen Harrison said she had to clear leaves from drainage grids after water came up to her shop's windowsill.
Upgrading the drainage system would be expensive and disruptive, said Daniel Herbert of Lancashire County Council.
A "combination of the streets being swept less often, drains being cleared less often, and there being more rain is a recipe for disaster," said Erica Lewis, Labour county councillor for Lancaster South East.
Pam Pickles said her house on Scotforth Road was flooded just weeks after she had finished repairing it following last November's floods.
She said her 86-year-old mother, who lives in a converted flat in the basement, was "absolutely terrified" and "can't even talk about it now, she's frozen to her settee and doesn't know what to do".
She said the 100-year-old drains "need looking at and making good for the 21st Century".
Ms Harrison said "it didn't help that the leaves" were blocking the grids and she "had to work hard" to clear them after the "freak thunderstorm" flooded the main road and "came up to the windowsill".
"Every time it rains we're worried about if it's going to flood again. It's your livelihood".
Mr Herbert, the council's highways group manager, said the council was investigating the causes of recent flooding and what improvements can be made.
"Population has grown, housing concentrations have expanded, which does put pressure on the capacity of the drainage systems", some of which "have been underground for over a hundred years", he said.
While it was an issue for United Utilities to deal with, he said the council was working with them.
Ms Lewis said some of the same residents were being flooded increasingly often and it should not be blamed on "extreme circumstances".
She said although there had been "early unseasonal leaf fall", drains had been "left blocked for months" and suggested there was "an underlying problem about the capacity of the surface water drainage system".
She said the county council "must commit more resources" that are "desperately needed before winter" and urged residents to report blocked drains to the council on its website.
Ms Lewis also queried whether United Utilities have plans to expand the capacity of the drainage system.
United Utilities have been contacted for comment.