Winter Hill moorland fire 'under control'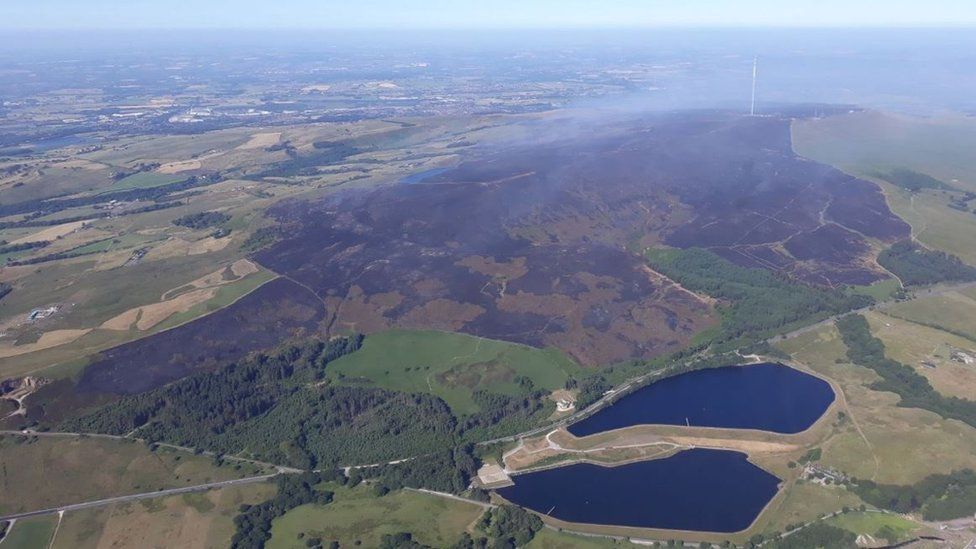 A huge moorland fire is under control and is no longer being treated as a major incident, the fire service said.
At its height, hundreds of firefighters tackled the blaze on Winter Hill near Bolton after it broke out on 28 June.
The fire spread across 7 sq miles (18 sq km) but crews had saved properties and vital infrastructure.
Lancashire Fire and Rescue Service urged people to stay away as there was still "significant work ahead" to bring the incident to an end.
Chief fire officer Chris Kenny said fire crews were in a "strong position" but the moorland would be monitored for pockets of fire.
Firefighters would dampen hot areas down and maintain control lines to prevent any fire from spreading.
Mr Kenny said: "We have successfully protected the vital infrastructure and properties in the area.
"Our drone allows us to identify hot spots in the peat underground and there are still areas burning beneath the surface.
"Although we've had some rain which helps to douse the land, firefighters will remain at the site until we can be more certain there is no further risk of fire."
He said road closures remain in place to operate equipment and keep emergency access points clear.
Mr Kenny urged residents and visitors to be "extra vigilant" outdoors.
"Disposable BBQs, discarded cigarettes and even rubbish left on the ground can all start a fire."
Public Health England said air quality in the area was "improving" but said there may still be times where it will be poor, so "continue to minimise your exposure to any smoke and keep your medication with you".
Related Internet Links
The BBC is not responsible for the content of external sites.