World Cup 2018: Burnley barber hoping to cut Southgate's hair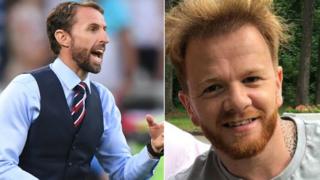 A barber who earned a World Cup call-up to trim the hair of England footballers in Russia is hoping to tackle the manager's barnet next.
Simon Townley has already trimmed the manes of several Three Lions squad members and Gareth Southgate's backroom staff during the tournament.
He is now poised to return to Russia to help the team look their best for the quarter finals if they beat Colombia.
"If we are 3-0 up at half-time I will be booking my flight," he said.
Mr Townley, 32, cut the hair of his regular client centre-back Phil Jones, fellow defender Gary Cahill and goalkeeper Jack Butland on his first visit to the World Cup.
He said he noticed a "fantastic team spirit in the England camp from the backroom staff to the players" during his trip.
But his chance to snip the team's boss Southgate, who has become a style icon because of his taste in waistcoats, came by chance.
"I also did the backroom staff and it was while I was packing up my stuff Gareth Southgate walked in," said the barber, who is from Burnley.
"He asked about my leg which I broke four weeks ago. I asked him if he wanted a haircut and he replied to see him in about 10 days time which should coincide with my return, hopefully if we beat Colombia."
Mr Townley, who is in a wheelchair because of his leg injury, said the World Cup has been a great experience
He added: "There is a marvellous atmosphere among the fans.
"The Russian people have been so helpful. There had been a lot of bad publicity about Russia but the fan zones have been great.
"When I was watching one of the Nigeria matches it was like a giant party."
Mr Townley's involvement with England came about after he began snipping Burnley goalie Tom Heaton, who recommended him to fellow footballers.
And it was Manchester United defender Jones who arranged for him to join the squad in Russia.